Description
Verstelbare tegeldragers: ideaal voor elk dakterras of balkon
Hoe legt u een goed dakterras aan? En wat is de beste manier om een mooie balkonvloer te maken? Met kunststof, verstelbare tegeldragers natuurlijk! Hiermee legt u probleemloos een egaal (keramisch) terras aan op uw dakterras of balkon. Een verstelbare terrasdrager van Kunststof Forte is zowel in hoogte als helling verstelbaar, maakt service toegang zeer gemakkelijk, is scherp geprijsd en is te gebruiken in combinatie met uiteenlopende soorten tegels, waaronder keramische tegels.
Bekijk ons aanbod Maks Kiesfix tegeldragers naar wens en plaats een bestelling. Heeft u een vraag over de producten uit ons aanbod? Neem gerust contact for more information or request a offer to. We will be happy to help you.
Maks Kiesfix tegeldrager
Met Maks Kiesfix dragers kunnen alle soorten vloeren exact op de gewenste hoogte worden uitgelijnd. Er is geen grind of slee nodig. Uitbloeiingen en algenvorming worden geëlimineerd. Door de open voegen wordt het water snel afgevoerd en wordt het oppervlak constant geventileerd en snelle toegang tot de afdichting van de installaties onder de overkapping is te allen tijde gegarandeerd.
Ideale toepassingen voor de maks kiesfix verstelbare tegeldragers
Waar de Maks Kiesfix  in hoogte verstelbare voetstukken gebruikt kunnen worden? In principe op nagenoeg alle terrassen en balkons:
Zwembad grens
Dakterrassen
Balkons en binnenplaatsen
Waterornamenten
Verlichte bekledingen
Vervaardigd van gerecycled plastic
Maks Kiesfix tegeldrager is een lichtgewicht, robuust 'sokkelsysteem' dat zowel in hoogte als in helling kan worden aangepast. Deze verstelbare tegelhouder is gemaakt van 100% gerecycled plastic en kunnen worden gebruikt voor plaat-, hout- en keramische bedekkingen en tegels op het dakterras, balkon, trottoir, daktuin en zwembaddek. Daarnaast maakt de spouw van de Maks Kiesfix tegeldrager service toegang, bijvoorbeeld voor inspecties, reiniging of reparatie van het dak, zeer gemakkelijk.
Kiesfix-tegeldragers bieden unieke voordelen
Vergeleken met 'standaard' tegeldragers heeft de SpiraPave terrasdrager diverse voordelen:
Er is geen grit en zandbed nodig;
Snelle toegang tot het dakmembraan;
Dakhuid is niet beschadigd;
Continue ventilatie hieronder;
Voorkomt uitbloeiingen en algengroei;
Gemakkelijke toegang voor servicedoeleinden;
Lichtgewicht constructie (statisch).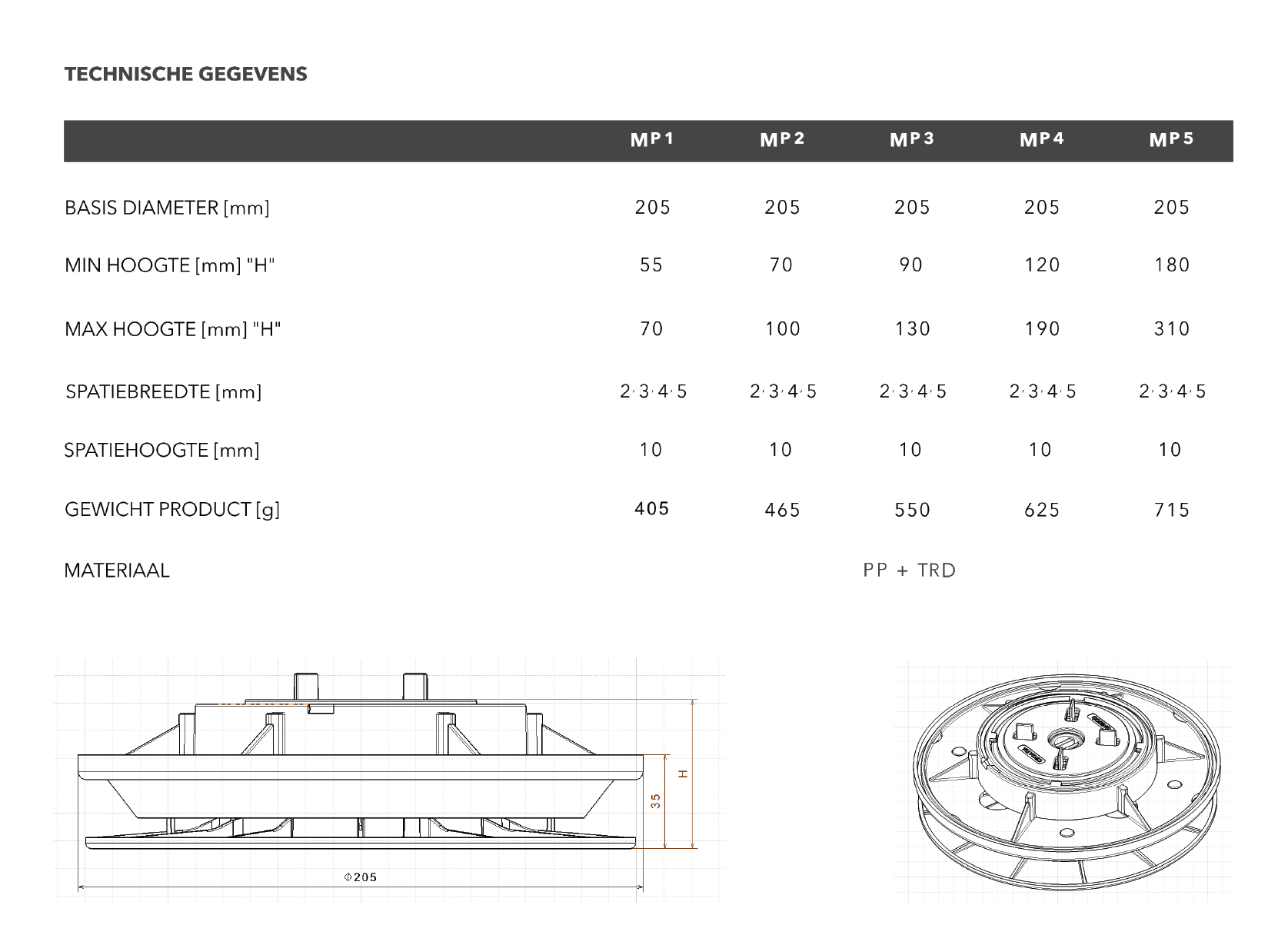 Waarom Kunststof Forte?
Waarom kiezen voor Femox Tegeldragers van Kunststof Forte? De voordelen van deze terrasdrager op een rij:
Fast delivery
Pay safely
Personalised service
Wide online range
We are happy to provide you with expert advice
Razendsnelle levering
Wanneer u een bestelling bij ons plaatst, geniet u van een snelle levering van 2-5 werkdagen. Dit is sterk afhankelijk van de drukte en de tijd van het jaar (seizoen lente/zomer). Mits u de precieze leverdatum van de tegeldrager of dragers van tevoren wil weten, dan kunt u het beste contact met ons opnemen. Wij kunnen dan een specifieke datum met u afspreken. Zo weet u precies waar u aan toe bent.
Bestel Maks Kiesfix verstelbare tegeldragers
Bent u overtuigd van de voordelen die onze verstelbare tegeldragers van Maks Kiesfix kan bieden? Kies het type, de hoogte en het aantal dragers naar wens, plaats deze in uw winkelwagen en rond de bestelling af! Wilt u eerst een offerte op maat of meer informatie aanvragen over een verstelbare tegeldrager? Dat kan natuurlijk ook. Neem voor meer informatie gerust contact with us.
We can be reached by telephone, e-mail and via the contact form. Call us at +31 (0) 622 340 847 or send an e-mail to info@kunststofforte.nl. Our expert staff will be happy to advise you.