Description
Moestuinbak Garden box ECO-oh bestellen bij Kunststof Forte
Waarom een Moestuinbak Garden box ECO-oh bestellen bij Kunststof Forte? De voordelen op een rij:
Fast delivery
Pay safely
Personalised service
Tailor-made is possible
Wide range of products online - large stock
We are happy to provide you with expert advice
Heeft u een vraag over Moestuinbak Garden box ECO-oh uit ons aanbod? Neem gerust contact met ons op voor vrijblijvend advies over Moestuinbak Garden box ECO-oh. Bel naar +31 (0) 622 340 847 send an e-mail to info@kunststofforte.nl or leave your details in the contact form. Then we will get back to you as soon as possible.
Zelf beginnen met een moestuinbak
Om te starten heb je niet veel nodig; alleen de juiste moestuinbak, wat potgrond en natuurlijk zaadjes of zaailingen van je lievelingsgroente en/of fruit. En een moestuinbak natuurlijk!
Indien je groene vingers hebt, dan is dat mooi meegenomen. Hieronder bespreken we enkele opties van de beste moestuinbakken en waar je op moet letten om een moestuin in een moestuinbak aan te leggen.
Waarom kies je voor een moestuinbak i.p.v. gewoon in de grond?
Je zal je wellicht afvragen waarom je zou moeten kiezen voor een moestuinbak in plaats van gewoon planten direct in de grond in de tuin.
Er zijn namelijk heel wat voordelen om te kiezen voor een moestuinbak.
Voordelen van een moestuinbak
Je hebt minder last van slakken.
De hoge muren zorgen ervoor dat de slakken een te lange afstand moeten afleggen vergeleken met groenten die gewoon in de grond gekweekt worden.
Ook heb je minder last van vuil spatwater indien je verharding naast de moestuinbak hebt en het regent.
De moestuinbakken warmen sneller op door de wanden die opwarmen door de zon, terwijl de kou van de winter nog in de grond zit.
Moestuinbakken zijn makkelijk verplaatsbaar.
Verzorgen van plantjes is makkelijker in moestuinbakken dan in een moestuin zelf. De grond van een moestuin heeft veel bewerking nodig.
Door een moestuinbak te gebruiken kan je de omstandigheden van de plant beter beheren. De voedingsstoffen en water houd je geconcentreerd voor de plantjes in de bak.
Het verspreiden van ziektes en schimmels wordt beperkt als plantjes apart in bakken worden geplant.
Niet alle groentesoorten zijn geschikt voor een moestuinbak
Groenten die te lang veel plaats innemen zoals asperges en spruitjes. Deze groenten nemen veel tijd in beslag om te groeien, zo houden ze de grond dan ook langere tijd bezet. Bovendien heb je ook maar een korte oogstperiode.
Planten die niet veel geven bij een oogst in zo een bak, bijvoorbeeld erwten. Erwten groeien het best in de grond waar ze genoeg ruimte hebben om te groeien.
Let ook op overheersende planten. Planten die heel snel groeien en anderen in je moestuinbak kunnen verdringen zoals de aardpeer.
Geschikte groenten voor een moestuinbak,
Je wilt natuurlijk heel snel van de groenten in je moestuinbak genieten. Het beste is daarom om altijd te kiezen voor groenten die snel groeien.
Enkelen zijn:
Tuinkers: Na een week kan je de eerste blaadjes al oogsten
Snijsla: Heeft slechts 4 weken nodig om te groeien en komt niet in de vorm van een krop.
Radijsjes: Slechts 4 tot 5 weken groeitijd
Spinazie: Heeft iets meer tijd nodig, 7 weken.
Technische Data Sheet moestuinbak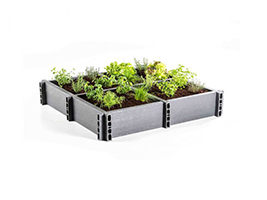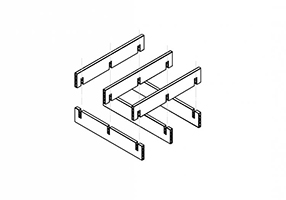 Place an order in the webshop
Wilt u Moestuinbak Garden box ECO-oh bestellen? Kies het aantal Moestuinbak Garden box ECO-oh dat u wenst en doe de producten in de winkelmand. Of vraag een offer aan! Heeft u vragen over de producten uit ons aanbod? Neem gerust contact met ons op.
You can contact us by calling +31 (0) 622 340 847 or send an e-mail to info@kunststofforte.nl. It is also possible to leave your contact details in the contact form. Then we will contact you as soon as possible to give you more information about the products.