Acrylaat bewerken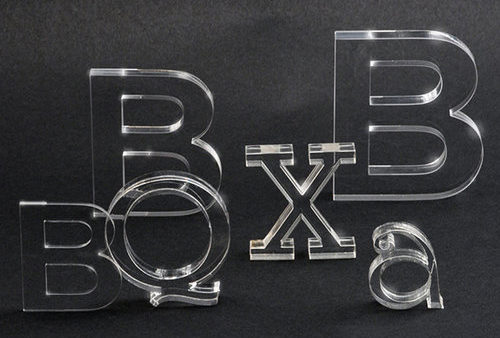 Acrylaat, ook wel bekend onder PMMA, perspex of plexiglas, is een zeer breed toegepast materiaal. Toepassingen laten zich zien in de reclame industrie, in de vorm van bijvoorbeeld displays of vitrines, maar ook op andere plekken waar (breuk)veiligheid belangrijk is. Het materiaal heeft zoveel verschillende toepassingen door zijn gunstige eigenschappen:
Het is licht van gewicht.
Hoge breukveiligheid
Weatherproof
Zeer duurzaam
Glashelder
Goed te bewerken
Zeer goed (blijvend) thermisch vervormbaar
Ook is acrylaat redelijk goedkoop. Hierdoor laat acrylaat zich op zeer veel plekken toepassen, vooral als men geen glas mag gebruiken in verband met scherven of breken.
Er zijn twee vormen acrylaat, gegoten en geëxtrudeerd, met elk andere eigenschappen. Gegoten acrylaat heeft minder restspanningen dan geëxtrudeerd acrylaat. Hierdoor is het toepassen van bepaalde bewerkingen beter op gegoten acrylaat. Kunststof Forte BV adviseert u daarom graag over welk halffabricaat acrylaat, of welke vormen van bewerking, het beste zijn toe te passen voor uw product.
In het algemeen geldt dat de meeste bekende bewerkingsprocessen zonder problemen zijn toe te passen op acrylaat. Bekende bewerkingsprocessen zijn bijvoorbeeld boren, frezen en zagen.