Description
HMPE 1000 volstaf is te verkrijgen in een standaard en food grade kwaliteit. De standaard kwaliteit is beschikbaar in de kleuren naturel, zwart, groen en lichtgrijs en de food grade versie in naturel en blauw. De diameters variëren van 10 t/m 300 mm en de standaardlengtes bedragen 1000 of 2000 mm.
HMPE1000 heeft een moleculaire dichtheid die met 1000 of hoger wordt aangegeven en is een super slijtvaste kunststof. De moleculaire dichtheid bepaalt voor een belangrijk deel de eigenschappen van de kunststof polyethyleen. HMPE type 1000 is nog iets slijtvaster dan HMPE 500. Het gladde HMPE 1000 heeft bovendien niet aanhechtende eigenschappen, waardoor deze kunststof zeer geschikt is voor silobekleding, stortgoten en laadbakken.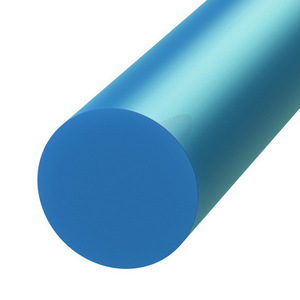 HMPE 1000 staf foodgrade
Hoogmoleculair Polyethyleen (HMPE) is vochtafstotend, volledig goedgekeurd voor direct contact met levensmiddelen volgens de geldende 10/2011 wetgeving, hecht niet aan en heeft het een lage wrijvingscoëfficiënt. HMPE heeft een betere slijt- en slagvastheid dan HDPE. HMPE wordt veel toegepast in de transport- en overslagsector en in de machinebouw voor de voedingsindustrie. Onder voorwaarden is dit materiaal verkrijgbaar met FG-10/2011 certificaat.
HMPE
PE is de afkorting van polyetheen: de oude benaming polyethyleen. Vanwege zijn goede eigenschappen is dit het kunststof dat wereldwijd het meest wordt gebruikt.
Er zijn meerdere soorten PE. Om misverstanden over de benaming te voorkomen, gebruiken wij het getal dat de moleculaire dichtheid aangeeft. Dit geeft aan hoeveel moleculen er per volume in de kunststof aanwezig zijn. Hoe hoger dit getal is, hoe slijtvaster de kunststof is. Vanaf 500 heet het 'hoogmoleculair' (HM). In de kunststofplatenindustrie gebruiken we de volgende drie soorten:
PE 300
HMPE 500
HMPE 1000
PE heeft een goede slijtweerstand en een lage wrijvingscoëfficiënt. Wel dient de temperatuur niet teveel op te lopen, in verband met smeltgevaar. In tegenstelling tot Nylon, neemt het materiaal geen vocht op. Het wordt veel gebruikt bij langzaam lopende mechanismen, met name in de voedingsindustrie.
PE is volledig goedgekeurd om in direct contact met levensmiddelen te komen, mits FDA-gecertificeerd. Talboom voldoet aan de strenge eisen voor de opslag, verwerking en traceability van HMPE foodgrade. Indien gewenst, leveren we natuurlijk een FDA-certificaat mee.
Er zijn ook PE varianten die een nog hoger moleculair getal hebben Dit is zogenaamd UHMPE (Ultra Hoog Moleculair Poly Ethyleen), ook wel bekend als Werkstoff S. Dit wordt gebruikt voor mechanische systemen waarbij de hoogste slijtvastheid wordt vereist.
The advantages of ordering from Kunststof Forte
Ordering from Kunststof Forte offers you many advantages:
Do you need help? We are happy to help you with expert advice
Do you require a particular finish or size? That is not a problem
Fast delivery
Secure payment
Large range and stock
Do you want to order a large quantity? Then ask request a quote. If you have a question about PE Polyethylene (HDPE) rod, please feel free to contact us. Call +31 (0) 622 340 847, send an e-mail to info@kunststofforte.nl or use the contact form We are ready for you.