Description
Er zijn heel veel redenen om voor kunstgras te kiezen. Het blijft altijd mooi groen, het is praktisch, nauwelijks te
onderscheiden van echt gras, gemakkelijk, multifunctioneel,  duurzaam, kindvriendelijk, geschikt voor dieren, er is weinig onderhoud nodig, enz.
Kunststof Forte is gespecialiseerd in kunstgras voor tuinen, dakterrassen, balkons, speel- en sportveldjes en private puttinggreens. Ook is er een groot aanbod aan verschillende soorten grastapijten te vinden, zodat uw wensen altijd kunnen worden vervult!
Daarnaast bieden wij vrijblijvend deskundig advies. Hierbij kunt u rekenen op regionale, vakkundige tuinmannen. Wij helpen iedereen met veel plezier, met kunstgras voor elk budget.
Kunstgras collectie
Kunstgras van Kunststof Forte BV wordt ontworpen voor wie houdt van een realistische uitstraling, comfort en luxe.
De grastapijten zien er niet alleen zeer natuurlijk uit met de vele kleurschakeringen, ze hebben ook een zeer aangenaam loopgevoel dankzij hun zachte vezels. Kunstgras kan echt overal geplaatst worden. Denk bijvoorbeeld aan uw tuin maar ook aan een terras of balkon.
Waarom kiezen voor Kunststof Forte BV
1. ONDERHOUDSVRIENDELIJK
Kunstgras vergt een minimum aan onderhoud! Kunstgras onderhouden gaat gemakkelijk en snel door middel van opborstelen. Regelmatig opborstelen met een harde bezem is gewenst om vervuiling tegen te gaan, maar ook om de vezel opnieuw rechtop te zetten. Indien er zand is ingestrooid, wordt dit opnieuw tegen de vezel aangeveegd. Hoe vaak het kunstgras dient te worden opgeborsteld wordt hoofdzakelijk bepaald door de intensiteit van het gebruik en het type gras.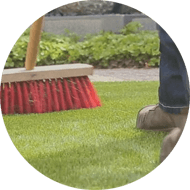 2. NATUURLIJKE UITSTRALING
Een realistisch ogend gazon met een superzacht gevoel voor een natuurlijke uitstraling, dat is waar Kunststof Forte kunstgras voor staat! Het hele jaar door een frisgroene tuin, vrij van klaver, mos, onkruid en zonder verkleurde, dorre plekken. Door het ruime kleurenpalet die aan elke grassoort werd toegevoegd, zoals bruintinten, gekrulde vezels en een goede mix van lichte en donkere tinten groen, is het kunstgras haast niet van natuurlijk gras te onderscheiden!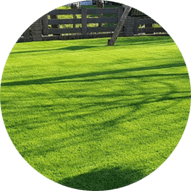 Kunststof Forte houdt van het milieu! Gedaan met grondwa-ter vervuiling door chemische meststoffen en pesticiden. Gedaan met het onnodig verspillen van kostbaar drinkwater om te sproeien. Geen uitlaatgassen, benzine en lawaai meer van grasmaaiers, die een behoorlijke tol eisen ten nadele van het milieu. Bovendien is Kunststof Forte kunstgras vrij van lood en cadmium en volledig recycleerbaar.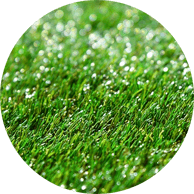 Kunstgras alleen voor uw tuin? Nee hoor, de mogelijke toepassingen van kunstgras gaan verder, want ook rondom het zwembad, op het balkon en dakterras kunt u prachtig kunstgras voorzien. Kunstgras wordt ook steeds vaker als creatieve oplossing voor indoor toepassingen ingezet, zoals muurbekleding of als vloerbedekking. Bovendien is kunstgras, in combinatie met shockpads, een ideale oplossing als valveilige ondergrond.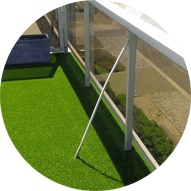 Besparing op water (sproeien), meststoffen, pesticides, periodieke vernieuwing gras en bij zaaien, aankoop en onderhoud van alle tuinmachines en een aanzienlijke daling van de containerpark kosten!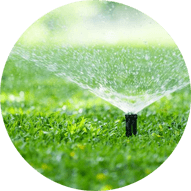 Kunststof Forte  kunstgras heeft een lange levensduur en een hoge UV bescherming. Bovendien is het bestand tegen chloorwater uit zwembaden en ontlasting van honden en katten. Het is uiterst slijtvast, zelfs bij intensief gebruik door spelende kinderen of huisdieren.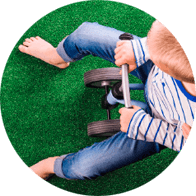 Place an order in the webshop
Wilt u Kunstgras bestellen? Kies het Kunstgras dat u wenst en doe de producten in de winkelmand. Of vraag een offer to! Do you have any questions about the products in our range, or do you have a wish for a certain processing? Please do not hesitate to contact us.
You can contact us by calling +31 (0) 622 340 847 or send an e-mail to info@kunststofforte.nl. It is also possible to leave your contact details in the contact form. Then we will contact you as soon as possible to give you more information about the products.